Best Toys for 2018
Guide to age appropriate toys
Top 10 Toys for Newborn to 1 year old​
Newborns are stimulated by visual,touch and audio.
High-contrast patterns and bright colors captivate her because they're the easiest for her to see. She's already learned to appreciate sounds and soft music. Objects that move slowly and produce a gentle sound are far more interesting to her than those that are fixed and silent.​ Toys that are designed to promote interaction in a variety of ways to engage their senses : a squeaking or crinkling noise, have a nubby texture, and be soft and cuddly. ​
Must have toys for newborns are musical mobile, unbreakable mirror​, cloth books , sensory toys, floor gyms, pull down musical toy and soft fabric doll.
1. Freddie the Firefly by Lamaze $149.90
Freddie has a squeaker, clinking rings, tethered ladybug teether and knotted antennae perfect for chewing. He has bright colors on his tummy and high-contrast black and white patterns on his back.​

2. My first fishbowl by Lamaze $249.90
A creative version of the put-in, take-out concept, this fun fish bowl offers baby four fun sea creatures that crinkle, rattle, jingle, and squeak.
​
3. 3 in 1 soothe & play seahorse mobile by Fisher Price $399.90​
​
3 ways to play! Motorized crib mobile – plays up to 15 minutes of music, with sweet underwater pals "swimming" overhead, mobile slowly spins to a stop, making it easier to get baby to sleep
4.​ Colourful 3 in 1 musical activity gym by Fisher Price $399.90
Portable activity gym keeps baby busy with toys, sounds, and music! Five linkable toys plus an adorable take-along musical fox with fun sounds and two music modes keep baby busy on a padded, activity play mat with two soft play gym arches overhead.
​
5.​ Noah's ark $249.00​
Carrier with 4 assorted removable plush toys Each toy has a different sound feature All items are safe for babies. Elephant makes a trumpet sound, lion roars, zebra is a squeaker and giraffe is a rattle.
​
6. Kick and play piano gym by Fisher Price $599.90​
​

Baby kicks. Music plays. And that's just the beginning. Movable toys on the overhead gym encourage baby to bat and grasp.​

7. Wiggle & giggle & crawl ball by V-tech $159
Wiggles and wobbles on its own encouraging your little one to chase after it. Press the dog, cat and bear buttons to learn about animals, colors and numbers through more than 45 playful songs, phrases and sounds.
8. Busy learners activity cube by V-tech $249.90
​
Featuring five sides to explore, this play cube attracts your babys attention and encourages imaginative play with music, light-up buttons, colors and more. Shape and animal buttons introduce animal names, animal sounds and shapes. ​
9. My first puppets cat by The Puppet Workshop $80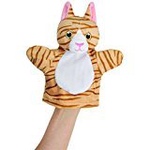 Made from the finest quality materials that are also machine washable at 30 degrees. With realistic embroidered eyes and beautiful features, they are a wonderful fun addition to story time.​
​10.See-me sensory ball by Edushape $120
The 7 Inch Edushape sensory ball features a unique texture that little hands will love to grab onto, with a softness that makes it equally ideal for relaxing, stimulating massage. It enhances gross motor control by encouraging crawling, grasping and bilateral coordination.​
Top 10 Toys for ​1 to 2 years
They are fascinated by cause and effect and will enjoy any toy that responds to his actions and makes use of newly acquired motor skills, For instance, he'll love toys that allow him to hit a ball with a hammer as well as toys with buttons that cause music to play or characters to pop up. He's too young to actually learn his ABCs, but he'll enjoy interacting with these toys and being exposed to language and the music
Must have toys for 1 to 2 years : nesting cups, stacking rings, hammer pegs, musical instruments, shape sorter, puzzles with few pieces , bath toys
1. Baby first blocks by Fisher Price $109.90
Ten colorful first blocks and a big block bucket "grow" with baby from basic put-and-take play to shape-sorting fun! Baby can drop colorful shape blocks into the open bucket for put-and-take play..or fit them through the openings in the shape-sorting lid.​

2. Shake'n beats tambourine by Fisher Price $99.90
Bright colours, clacker sounds, and a large shiny mirror help to strengthen baby's senses as they rock out. Roly-poly rocking action adds to the fun!
​
3. Laugh & learn fruits & learning markets by Fisher Price $299.90
​

Here's a fresh approach to learning, with 65+ songs, sounds, tunes & phrases that teach first words, early concepts and even some Spanish! plus there are lots of hands-on activities to keep the Littlest shopper busy, busy, busy. Baby can sort the 4 fruit shapes to hear all about fruits, counting & colors. Tons of fine motor activities, like spinning the grocery list roller, dropping shapes through the barrel, flipping the switch to turn the light on & off, and moving the grocery basket slider activate more fun learning content. ​

4. Crawl along bear by V-tech $299.90
​

Featuring four shaped press buttons on the bears nappy that introduces shapes, numbers, colours and lots of encouraging phrases to teach first words and prompt baby to crawl along with the bear. Includes 10 happy melodies and 5 sing-along songs.​

5. Pull & sing kitten by V-tech $179
It is a playful interactive kitty that loves to play with the big ball of yarn. As your little one pulls the string, the kitten runs to follow them and encourage imaginative play. Press the colorful buttons and this cute kitten toy will promote language development by teaching letters, colors and playing cheerful songs!​
6. Dancing butterflies push & pull toys by Hape $229
A gentle push or pull keeps these butterflies in motion. This colorful version of the classic push toy will give hours of fun while providing a great form of exercise.
7. Fantasia blocks train by Hape $269
Interchangeable train cars add more possibilities. 17 piece, maple block train with bright rainbow colors and patterns add to the fun of block building and train play. Develops motor skills and stimulates imagination. ​
8. First pounder by Hape $89
​

Nothing's more fun than hammering these pegs through the holes - except flipping them over and doing it again. Name the colors of each peg. Count how many times it takes to pound the peg through the hole. ​

9. Fairy tale blocks by Plan Toys $249
Use the gorgeous 35-piece set to construct endless variations on castles and smaller houses. The magical building set includes a variety of colored Plan Wood blocks and non colored wooden blocks​

10. Baby puzzles jungle by Galt $90
Jungle is specially designed for toddlers and helps them practice matching skills, problem-solving and manual dexterity. The chunky 2-piece puzzles are the perfect size for little hands. Includes 6 simple puzzles featuring colorful jungle animals. ​

​Top 10 Toys for 2 to 3 years

​She'll start to enjoy pretend play that imitates the actions of people around her. She'll like high-tech toys that make real-life sounds, such as washing machine that has spinning and sound effect. Pretend play by feeding their doll or feeding an interactive toy animal. Or big dump truck with scooping sand effect.
Must have toys for 2-3 are model dough, make believe kitchen and utensils, dolls, strollers, ride on toys, musicals , puzzles, and snap together toys.
1.Bath baby boy by Corolle $380
This doll is the perfect playmate to help little ones become familiar with all bodies of wate. : in the bath, in the pool and in the sea. The doll's soft body is posable like a real baby, and her face, arms and legs are made of touchably soft vinyl that is delicately scented with signature vanilla.​
​
​2. Carriage by Corolle $959
​
This Corolle 2-in-1 Carriage converts from a buggy to a carry bed so baby dolls won't need to be woken up when the walk is done. Navy blue with pink accents. Measures 24 x 14 x 18 to accommodate 14- and 17-inch dolls.

3. Baby Alive snack'n spill baby $339.90
Feed baby her peas with her "magic" feeding spoon. Oops, after baby eats, bib lights up to look like a "spill". Each doll with free gifts,doll clothes,bag and color necklace suits,The color of the bags and ring may be different Simply touch the bib with the cloth to clean it up, and "magically" spill disappears . Responds to your little girl with many phrases.
4.Play-doh $49.00by Hasbro
Model dough that allows children to create fun food, ice cream , pastries , ice cream etc...

5. Toot-Toot drivers big fire engine $199 by V-tech
​
​Lots of realistic sound effects! Features an extending ladder and sliding fire extinguisher, and also features the small fire engine which interacts with SmartPoint sensors to encourage independent imaginative role-play and motor skill development.​
6. City Fire Engine 31CM $149.90​ by Dickie
Button operated lights and sounds, an extendable ladder and a pump action hose that sprays real water makes this fire truck a great choice for imaginative play with friends.
​
7.Birthday cake play set $99 by Red Box
​
Children love celebrating birthdays, even if it's only for their favorite stuffed animals. The Birthday Cake Set will tap into their imagination, allowing them to play pretend birthday party as much as they like. ​

8. Mother and baby puzzles farm $85 by Galt
Fun Set of four 16 piece puzzles with one piece in the shape of the baby animal. Piece together the interlocking pieces then add the baby piece. Encourages the development of matching and sorting skills. ​
9.Farm friends hand puppets $219 by Melissa and Doug
​​​
Four simple glove puppets in a coordinated theme can act out a scene together, or be used separately for simple puppet play. Either way, they are great for developing motor skills, hand-eye coordination, communication skills, self-confidence, parent-child bonding, and so much more! ​

10. Healthy basics $279 by Hape
​
​​

Wood with water-based paint; Including 10 pcs: 1 x milk carton, 1 x apple juice, 1 x orange juice, 1 x orange juice box, 1 x strawberry yoghurt, 3 x eggs, 1 x cheese, 1 x blueberry jam.
​Top 10 Toys for 3 to 4 years
Kids are now able to imagine that they're someone else and may fantasize about being airplane pilots, police officers, doctors, or teachers. P
reschool toys includes many fun playsets for older toddlers. Some favorite toys 3-year-old kids are action figures, dolls, trains, and ride-on toys for toddlers to enjoy outside.
1. Radio control flying saucer $249 by Daron Worldwide
It is durable and ready to play. Insert batteries and go. Includes flying sounds and 2 color LED lights. Lights & sound​

2.Digiart creative easel $599 by V tech
This fun, interactive Easel can be transformed from a light-up dry-erase board to a chalkboard and drawing table. Children can learn step-by-step by following the lights using the magic pen. Then learn letter and number stroke order for uppercase letters A-Z and numbers 1-20 stroke-by-stroke. Build in 10 classic songs.​

3. ​Thomas & friends adventures reg 7 the scrapyard $169.90 by F​isher Price
Die cast playset that keeps the little ones busy and let their imagination run wild
4. 6 Pack brilliant do a dot $159 by Do A Dot Art
MADE IN THE USA using only the highest quality materials and standards to ensure kids have endless fun, and parents and teachers have piece of mind. All Do A Dot Art! markers are GLUTEN FREE and LATEX FREE. Easy to use, perfect for toddler, preschool and kindergarten arts and crafts projects. DRIES QUICKLY EASY TO GRIP BOTTLE FOR LITTLE HANDS.

5. United pullback $99 by Daron Worldwide
This is a cool toy airplane that features pullback action and also working lights and sound. ​Pull the plane back and let it go forward in the take-off position.​

6. Emergency vehicles playset $139 by Redbox
Fire set is full of the best tools for saving lives under fire. Contains 5 fire rescue engines and accessories​.

7. All inclusive kichenette $1499 by Hape
Oven door has see-through panel. Graphics represent stove top. Hutch has slots to hang utensils or store small items. Knobs "click" when turned "on" or "off." Towel bar. Magnetic close on doors.
8. 4-IN-1 Trike $1,299 by Radio Flyer
This 4-in-1 trike has the ability to convert from a stroller to a steering trike, learning-to-ride trike and finally a classic trike. It adjusts according to children's growing needs and comes with features that can be removed or adjusted to suit kid's riding needs. ​

9. Police officer role play set $299 by Melissa and Doug
Comes complete with this official looking, machine-washable, jacket and cap, and shiny police badge. Along the whistle, walkie-talkie with sound effects, handcuffs. ​

10. Butterfly tea set $299 by Schylling.
Each basket set includes a teapot, sugar bowl with lid, creamer, four cups and saucers, a table cloth, four napkins and spoons! ​

​